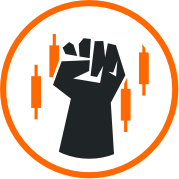 Custom Trader Evaluation Program
The Gauntlet™ is a 60-day custom developed Futures trading evaluation program that enables successful candidates to acquire up to $25,000.00 in funding from a proprietary trading firm. Our program offers a flexible evaluation model and enables all candidates with previous trading experience to trade their own way to reach funding.
The Gauntlet™ requires traders abide by only the following
three hard rules
 Make a 10% profit on a $25,000.00 virtual account in 60 calendar days
 Stay within a non-trailing 10% drawdown limit from your starting balance
 Place a minimum of 30 trades, each on a different day and at least one per calendar week
That means candidates can scalp, trade the news or hold overnight positions. The Gauntlet™ is open to any trader who can show their strategy is a successful one.
The Gauntlet™ is a one time fee and not a billable monthly subscription. Gauntlet™ candidates who pass the evaluation with a 4:1 profit to drawdown ratio will receive their Gauntlet™ fee refunded.
Candidates can also take advantage of Jigsaw's award winning Journalytix analytics software built directly into their Gauntlet™ dashboard. In addition, the Gauntlet is 100% compatible with Jigsaws daytradr platform.